SRA AND THE PALM BEACH COUNTY FOOD BANK
SRA conducted qualitative research on behalf of the Palm Beach County Food Bank regarding an outreach program designed to bring food and education directly to neighborhoods where low income/food insecure residents lack access to food-assistance programs or to supplement the efforts of existing food-assistance programs that cannot provide enough healthy food to meet the growing need. The program was officially launched on December 17, 2014.
Check out this video:
Video Link & Source:
https://social.newsinc.com/media/json/69017/28268886/singleVideoOG.html?videoId=28268886&type=VideoPlayer/16×9&widgetId=2&trackingGroup=69017
This food truck isn't serving up fried, fast food.
The Palm Beach County Food Bank on Wednesday unveiled its latest initiative, "Nutrition Driven," a truck that takes a fresh food supply on the road and into neighborhoods.
The mobile food bank isn't just dropping off food. An awning will drop down from the truck and folks can gather underneath to learn how to prepare recipes that incorporate healthier meal options.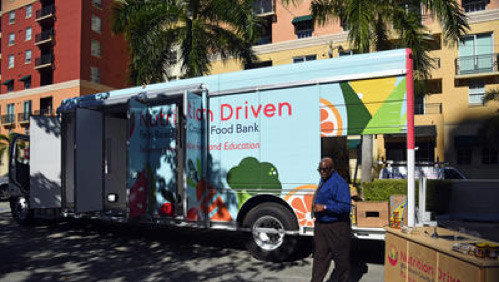 Photo Credit:  Mark Randall/Sun Sentinel
Warren Witter, director of Operations at the Palm Beach County Food Bank, shows off the food bank's new truck to be used in the Nutrition Driven Mobile Food Program. The truck and food bank staff will visit communities to provide food and food education.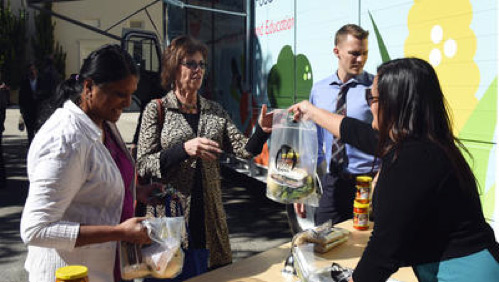 Photo credit:  Mark Randall/Sun Sentinel
Marion Brito, vice president of finance and operations at the Palm Beach County Food Bank, passes out a goodie bag of food to Barbara Allan of SRA Research Group at a kickoff event for the food bank's new Nutrition Driven Mobile Food Program.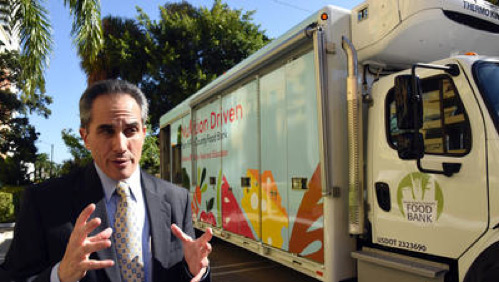 Photo Credit:  Mark Randall/Sun Sentinel
Perry Borman, executive director of the Palm Beach County Food Bank, describes the food bank's new Nutrition Driven Mobile Food Program.
"It's a food warehouse on wheels," said Perry Borman, executive director of the food bank.
The truck cost about $125,000 and was donated by the Cathleen MacFarlane Foundation, a local group that makes donations to other charitable causes in the county.
The program is set to begin in January. Borman said the idea to take the produce and cooking classes on the road came to the organization after officials realized just how much fresh food they distribute.
He said about 60 percent to 65 percent of the five million pounds of food the bank collected this past year consisted of produce. The bank collects food and provides it to more than 100 local agencies that take the food to help feed the hungry across the county.
While the amount of produce being provided is great for promoting eating healthy, he said oftentimes the food is wasted because not everyone knows how to prepare and cook vegetables.
"As long as we are distributing healthy food to families, we are shooting ourselves in the foot unless we can provide education," he said.
Borman said the program allows people access to produce in a place where it is widely available, but can be difficult for folks to afford.
Palm Beach County leads the nation in production of several vegetables, including sweet corn and sweet bell peppers, according to Palm Beach County's website.
"This gives people a chance to take what is already here in the community," he said.
To figure out which neighborhoods are visited by the truck, the Food Bank is teaming up with organizations that already provide assistance in specific areas across the county.
The program will provide the food, along with a 30-minute demonstration of what to do with that specific product in the kitchen.   The healthy-eating classes are created by the University of Florida's Institute of Food and Agricultural Sciences department.
Audrey Norman, who helps coordinate the program in the county, said the lessons are split into eight modules, which aim to educate families about the long-term benefits of healthy eating and how poor eating choices can lead to health conditions such as diabetes and heart disease.
In addition to learning how to follow a recipe, she said, the classes will teach folks about different food resources available including food banks and food stamps. The program also will explain the differences between national and generic brands, all while learning how to have fun cooking.
"Food is one of the great pleasures of life," Norman said. "We want people to really enjoy the creativity of cooking."
mgottesman@sunsentinel.com,
561-243-6544
or Twitter @marisagottesman